Trading on Dealerify platform
Nowadays, the global community is increasingly supporting the cryptocurrency world to decentralize the financial market and, consequently, the business and governance. Dealerify team's years of experience in training and trading have helped analyze these problems and identify areas for improvement. This growing market has slower maturity in services and products. But Dealerify has many plans to increase the penetration rate of the cryptocurrency trading market.
Here we will learn how to work with one of the best platforms for copy-trading, Dealerify.
Introducing the features of the Dealerify platform:
Dealerify is a professional and easy trading platform that is used to develop the cryptocurrency trading industry and intends to help all traders in the world of cryptocurrencies by providing various and attractive services in this field. In this part, we will introduce the features of the Dealerify trading platform. These features include the following:
– An important feature of Dealerify is that it transforms the entire trading space full of numbers into a coordinated space. You can view your positions on a page and make any decision you want for each of them as soon as possible.
– Dealerify has provided free facilities for all its users for 7 days at the beginning of entering this platform, so they can get acquainted with the platform conditions and its features and benefits at no cost. You can easily test this platform and it will help you to make the best choice.
– Automated trading is one of the useful tools and features of this platform that is suitable for beginners. Using this tool, you can easily use signals and strategies of professional traders that called "Vendor" in Dealerify.
– One of the best features of Dealerify for professional traders is the ability to trade and manage 20 user accounts simultaneously with access to one account instead of several accounts in a very simple and practical space. This is actually a very useful feature for people who want to manage multiple accounts.
– According to the plan you have in Dealerify, you can connect another account to your account and manage them. In Basic Plan you can connect 2 accounts to your account. In Pro Plan you can add up to 10 accounts and in Portfolio Plan you are allowed to connect up to 20 accounts.
– For the safety and convenience of its users, this platform has no access to your exchange account or wallet, and you only connect your exchange API to the platform, so you can trade safely and make sure your capital is safe in the exchange.
– Another great features of Dealerify is that you can set the minimum and maximum capital you want to invest in each position. This is an advantage that makes you more flexible in managing your assets.
-Alert helps you to be sharp in market. In the world of trading, you have to constantly monitor the market so that you can have good currencies with reasonable entry prices. But this is not always possible and you can not check all the cryptocurrencies you have in mind in the long run and it is quite clear that this is very time consuming. But in Dealerify, it is possible for you to enter the desired pairs and their price conditions with the help of the Alert feature, and the Dealerify smart platform will inform you as soon as these conditions are reached.
– You can see the balance of all your exchange accounts updated on the Dealerify platform. This access is available to all accounts connected to the platform. Your Spot and Futures account balances are updated individually and continuously.
Dealerify platform registration: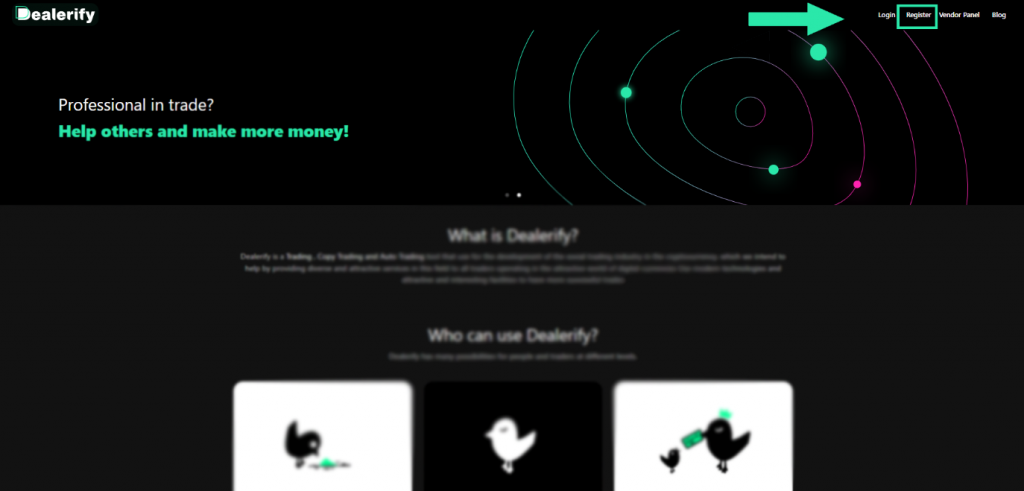 To use the Dealerify platform, you must first register. Registration on this platform is done using a mobile number. If you want register the Dealerify, you can follow the steps below:
First, enter the main page of this exchange using the Dealerify.io address. And select the "Register" option to register.
Note: If you have already registered on this platform, you can click on the "Login" option and log in to your account after entering the password.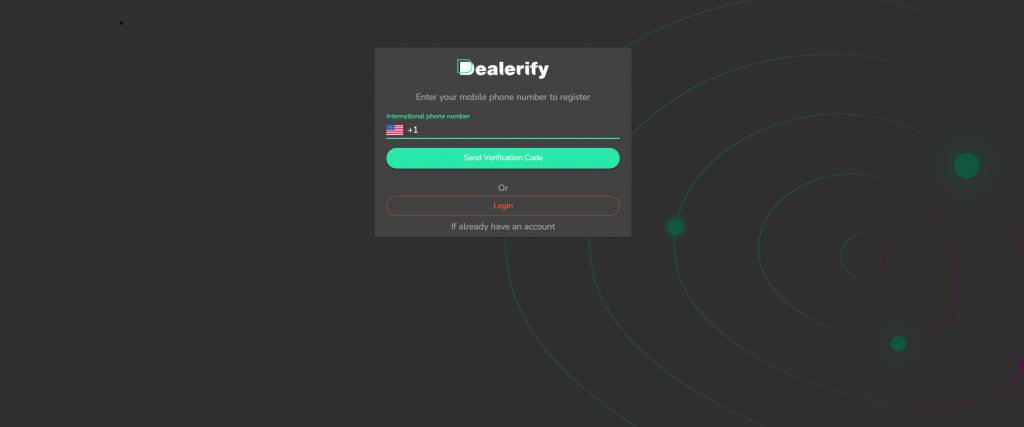 2. In this step, you must select your country and enter your mobile phone number. Then click on "Send Verification Code".
3. After entering your mobile number, you must enter the code sent via SMS in this step. Finally, select the "Confirm" option.
4. Here you must enter the requested information such as first name, last name, email, password and invitation code. You must select a password for yourself and repeat it in the fifth field. After completing the information, click on the Register option.
5. After completing the information and selecting the Register option, you will see a message indicating that your registration has been completed successfully. Click on "Login" to enter the platform.
After completing the registration process, you must confirm your entered email. In this step, click on the "Send Verification Email" option.
Enter the code sent to your email in the box provided. Finally, select the "Confirm" option to confirm and your email will be easily verified.
Introducing different parts of Dealrify platform:
After registering on the Dealerify platform, you can get acquainted with its different sections in this part of the article. In the image below, we will number each section and introduce each one: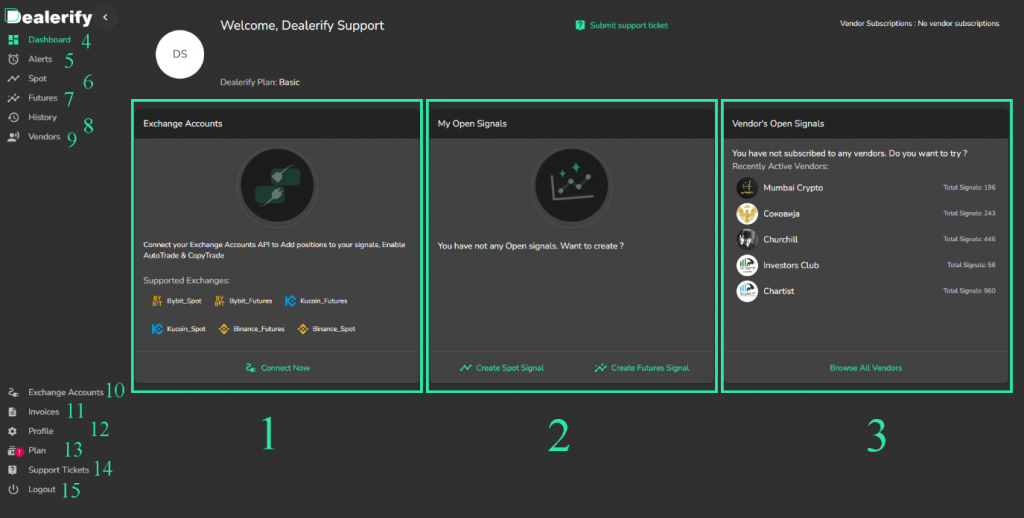 This part of the platform represents the accounts you have connected to the platform. You can see the connected accounts along with your balance in this section.
The My Open Signals section displays the game positions that you have traded, which can be spots or futures. It also shows the amount of interest you have paid and saved.
You have access to the vendors list through this section.
The Dashboard section shows you the home screen.
Using the Alert section, you can enter alerts for the desired pairs and their price conditions, and the system will notify you as soon as these conditions are reached.
Spot section show you all of your spot positions, both those you traded yourself and those published by a vendor.
Futures section show you futures signals.
History section make it possible to review a report of your past trades.
Vendors section show you a list of people who provide signal services.
You can see all invoices you create and paid in Dealerify in this section.
Exchange Account section allows you to add different accounts to this platform.
Profile shows your account information. You can use this option to get your invitation code.
This option indicates your Plan and inform you how much time is left until your plan expires.
You will be able to use the Support Ticket section to send tickets to the platform.
If you want to log out of your account on the platform, you can use the Logout section.